Saturday Succintness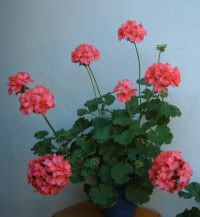 Is this the finest geranium I've ever grown?
Probably.
Is this the shortest blog I've ever posted?
No, I once posted one sentence.
(The variety is
'Simply Red'
. Play it Mick Hucknall records to get multiple blooms).

On second thoughts, just time to mention The Green, Green Grass, John Sullivan's spin-off from Only Fools and Horses, which began on BBC1 last night.
Very promising is the fairest verdict. There's so much cutting edge comedy (which often isn't) around these days that we need some good traditional sitcoms. And if they re-unite us with great characters from an earlier, legendary series that's a bonus.

The opening scene was acted at full volume by the two principals, as though they were trying to project their voices to the back of the Upper Circle. I rather liked that. It might be because both actors have been doing theatre work together recently.
There were some great lines in the opening scenes, as you'd expect from John Sullivan. I'm a little uneasy at getting another 'Vicar of Dibley' stereotypical portrayal of country folk, although I have to admit there are a few people in my own village who are as mad as goats and would be rejected for a sitcom as being too unbelievable.

It was directed by Tony Dow who, as an Assistant Stage Manager, gave me my orders when I first worked in the West End theatre. On my first night I almost killed one of the biggest stars of musical theatre. Tony's reprimand over my headphones was astonishingly mild, amounting to not much more than informing me that he'd noticed what I'd done. ASMs are often hated in the theatre but Tony was so mild-mannered yet so totally professional that I never heard a bad word said about him.
For his tolerance of a terrified, novice stage hand who didn't have a clue what he was doing I still owe him one over 30 years later. So, even if The Green, Green Grass turns out to be a turkey , I shall shout from the rooftops that it was brilliantly directed.