Last Of The Summer Weather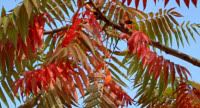 There's an old saying in these parts:
When the Sumac's turned to red
Throw a thicker duvet on thy bed
When the Sumac's turned to brown
Winter bist here, wearing a frown.
No, I mustn't lie to you. I made that up.
But don't be deceived by today's scorching heat. The nights are drawing in. And if you rise early, you can hardly see the mellow fruitfulness for the fucking mists. Rather like myself, the year is in
'the springtime of its senescence
.'
[
I've been wanting to use that phrase from Gore Vidal for weeks
].
But in a climate like ours you should embrace each returning season like an old friend.
[
Can't believe I wrote that sentence. I haven't been reading Patience Strong but I ate some cream doughnuts and fell asleep in the sun. Sorry
].
Anyway, if I can stop paranthesising [
like a fit of sneezing
] long enough, here are some things to look forward to this autumn:
The DVD of
Green Wing
should be released soon. If it isn't,
Talkback/Channel 4
will have missed the Christmas market and demonstrated that they don't have enough commercial nous to run a whelk stall.
There will also be a second series in the new year.
One of the things that made
Green Wing
unusual was that it combined some wonderful visual gags with brilliantly clever verbal humour. You rarely get both genres of comedy together.
The redesigned
Guardian
will appear in about a week's time. It is adopting the Berliner format, mid-way between tabloid and broadsheet. How like the dear old Guardian to sit on the fence. It was a design change foreseen by JFK when he said "
Ich bin ein Berliner
."
In the last design change they banished capital letters from almost every proper noun, for which I have never forgiven them. OK, that's a style change rather than a design change. But they argued that using capitals for terms like Prime Minister was confusing to readers and looked like
'alphabet soup'
. This made me wonder if they had confused their readership with that of the Daily Sport.
A new font has been designed for this change, which seems extravagant because there are thousands of fonts in existence (most of them using up disk space on my computer) and most of them are as little used as the fonts in the country's churches. Surely they could have adopted a green design policy and saved money and energy by recycling some long unused font?
That said, it's all very exciting for those who don't get out much. There will be much moaning and many letters of protest and people will "
instruct my newsagent to cancel my order
". ("
Yes, m'lady, I'm tugging my forelock even as we speak. If you had called into my humble newsagent to instruct me in person I could have licked your brogues and sent my youngest out with a chamois leather to wash your Range Rover. I take it that, in the absence of intructions to the contrary, Madam still wishes to receive Country Life and Cosmopolitan and Sir his copy of Asian Babes?
").
Why
do
the middle classes always '
instruct
' their newsagents?
But in a few weeks we won't even remember what a nightmare it was trying to turn broadsheet pages on the Bakerloo Line. Not least because we never go within a hundred miles of the Bakerloo Line.
The coming weeks will also see the final rounds of
The X Factor
. [
For overseas readers: this is like PopIdol/American Idol but open to people of any age
].
It is one of the greatest television entertainment formats ever devised. The tension in the final rounds is similar to a penalty shoot-out in a Cup Final. In the former, one tries to calm oneself by saying
'It's only a game'
. With the latter, one says
'It's only a crap TV programme'
. In both cases, to no avail.
For political junkies, we have the Tory leadership contest this month.
Since they unfailingly pick the political equivalent of a minger who can't sing, maybe they should adopt the
X Factor
format this time round.
Ken Clarke would have an advantage with his deep knowledge of jazz. He could put lyrics to
'Take Five'
, the number of times he's stood for the leadership. David Cameron would probably sing the
Eton Boating Song
. As for David Davis, well he was raised in a council flat so he might make a play for social inclusiveness by singing
'My Old Man's A Dustman'
.
For
Corrie
fans there will be the build-up to a big Christmas story line.
Will Charlie and Shelley get married? Lots of potential for fisticuffs in the aisle in that one.
Will Mike Baldwin's Altzheimers accelerate to the extent that he hands over the factory to Ken Barlow, believing him to be his son?
Will Kevin Webster discover that Sean was only pretending to be gay and that it was Sean who raped Sally on the Red Rec?
*
Finally, one assumes that Jeremy Paxman will return to
Newsnight
some time soon.
Gavin Esler - blander than a boil-in-the-bag Béchamel sauce served in a Harvester restaurant - can return to
News 24
.
Kirsty Wark - shriller than an Aberdeen fishwife - can jump on an
Easyjet
back to
BBC Scotland
.
Paxo will resume his rightful throne and we can go to bed happy in the knowledge that Ministers have been given a right royal shafting.
*

To those of you 6 months behind us, I made that one up.