Cocks, Cannibalism and C***s with Tubas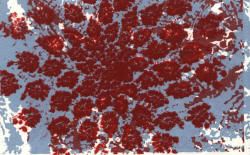 Today's illustration is by my niece 'Vivi', soon to graduate in textile design. It was actually a tactile Christmas card, the red pattern being flock. I thought it was flocking brilliant. We made a lot of those flocking jokes. Oh dear. What a sad family we are. Or maybe we'd just had too much wine.
Discovered that my sister has sprinkled this URL around like confetti amongst her friends and the people in her village. So when I said I was considering a request to describe Carlo and Lee's relationship in more explicit detail (the sub-text to become super text, or however literary critics put it), the blood drained from her face and she had to be revived with liberal quantities of Cotes du Rhone.
Yet this is the woman who only two weeks ago sent me an email saying her husband had prepared a nice cock for me. It was only after I picked myself up off the floor and read further that I discovered it was a cock pheasant. I thanked her and said it was a long time since I'd had one. And it was a long time since I'd eaten pheasant too. Oh,
come on
. It
is
the pantomime season.
Does God read my blog?
The other day I wrote a piece called Let It Snow. And lo, it came to pass that we had a white Christmas! Except that we didn't here. Not one sodding snowflake. The only white stuff I've seen was on the Coronation Street Christmas Special. And that came out of a special effects company's machine. Company motto: There's No Business Like Snow Business. Like I said, boys and girls, it
is
the panto season.
Lots of goodies to be deleted now from my Amazon wish-list, including the New York production of Sondheim's Sweeney Todd, one of my favourite musicals (Thanks, Jonathan). So yesterday I was preparing the Christmas Dinner while listening to
A Little Priest
, a song about cannibalism with a strong socialist sub-text.
Chacun son Noel
, you might say. Well, only if you had the misfortune to be French.
The silver band did their traditional oomp-pah-pahing round the village early on Christmas morning. There was something of a breakthrough here. For the first time in fifteen years they didn't knock on my door, having finally realised (they're a bit slow in the country) that I'm the miserable bastard who never opens the door to give them money. If I did open the door it would be to stick that tuba where the sun doesn't shine.
Finally, a cracker of a post yesterday from Peter at
Naked Blog
, nobly bashing the keyboard on the one day we would have forgiven his silence and featuring a brilliant contribution from
Chav Gav
. Give that man a medal on a Burberry ribbon and a voucher for the Argos jewellery counter.
The Adventures of Carlo Episode 30
CHRISTMAS SPECIAL Part Two

Carlo and I waited up until midnight, poor Carlo still waiting to see the video message from his family. At midnight, with no sign of Sandy, we left some sandwiches in the drawing room and went to bed.
At 1.30 I was woken by distant sounds of singing and shouting. I quickly put on my shirt and trousers and ran down to the hall. Carlo was already there, wearing only his underpants and his MICHAEL IS INNOCENT T-shirt. He was arming himself with a selection of ancient and cobwebbed walking sticks which had stood in the hall for decades. We went outside.
It was freezing cold and a ground mist lay across the grass and the moat. As our eyes adjusted to the darkness we saw two figures out on the moat in the old rowing boat which hadn't been used since my father's day. As we moved closer, we saw Lee at one end of the boat swigging beer from one of the Rod and Mullet's carry-out flagons. Sitting opposite him was a dishevelled Sandy, loudly singing Ferry Across The Mersey.
As we stared at this surreal scene we heard shouting from down by the gates to our right and saw George Skidmore standing there in his pyjamas and dressing gown. "Keep calm, I'll call the coastguard", he shouted. This wasn't the most helpful course of action, Lupin Towers being seventy miles from the sea.
At this point, Lee reached down into the boat and then hurled a Budweiser bottle at Mr Skidmore. We watched it travel in a spinning parabola and miss his head by inches.
"Bastards!", George said. It was the first time I'd heard him swear.
Suddenly aware of an audience, Sandy stood up in the boat and sang more loudly: "Ferry cross the Mersey, cos this land's the place I love, and here I'll stay." Not if I have anything to do with it, I thought. The boat was now rocking violently and Lee fell forward and was sick over Sandy's shoes.
I sent Carlo to fetch some rope from the garage and shouted to George to go home as everything was under control. "I hope the little bastard drowns", he said.
We managed to lassoo the prow of the boat and slowly pull it ashore. It would have been quicker but Carlo kept stopping to spit on his hands. This wasn't, as I first thought, to get a better grip but to try and erase the grass stains from his Michael Jackson T-shirt.
Lee staggered ashore and fell on top of Carlo, knocking him to the ground. Carlo mistook this for a spontaneous act of affection, put his arms round him and shouted "Mahal kita!"
Sandy was lying on his back with his eyes closed, whether asleep or unconscious was hard to tell. I told Carlo to get some brandy and a blanket. Instead he returned with the tiny bottle that I'd found in the fridge after he and Lee had gone clubbing. He pressed the bottle into each of Sandy's nostrils alternately. Sandy opened his eyes. Then, amazingly, he got to his feet and began to dance, slowly at first, then with increasing vigour. He unbuttoned his shirt and threw it to the ground.
Carlo started giggling. "Boss man very hairy", he said. "Boss man's a piss artist", I replied.
Sandy began to slow and stagger again. Carlo offered him the bottle of miracle elixir but I pushed him away and we somehow managed to get him into the house and on to his bed. We put Lee in the drawing room where once again my Persian rug could be pressed into service as the world's most expensive duvet.
Carlo looked down at Lee and smiled. Then he grabbed my hand. "Lee is here. Sandy is here. We are all together for Christmas! Maligayang Pasko! Happy Christmas!"
"Fuck off", I said.

In Part Three: will Sandy recover in time for his Women's Institute lecture?