Let It Snow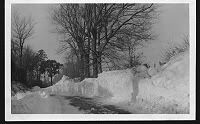 I can't dredge up any lingering childhood excitement or enthusiasm for Christmas. It hasn't been the same since my dog died.
I had a dog who would be in a frenzy of excitement on Christmas morning and would snatch her presents from our hands, parade them round the room like trophies and then rip them open like a five year old child. My dog also loved firework displays but I had to suffer accusations of cruelty from people wedded to doggist stereotypes whenever I took her to them.
Above all, she loved snow. It was because, in the words of Louis MacNiece (
see below
), she loved "the drunkenness of things being various." She took an almost sensual pleasure in snow, rubbing her nose in it, eating it, tossing it in the air, dancing in it. We would go out in the street and have snowball fights. Well all right, she couldn't throw them back but she would catch them and eat them.
Snow remains the one childlike source of pleasure that has never forsaken me. I can still sit for hours at the window watching the snow falling, just as I did when I was ten. Except that, with our mild winters, snow is becoming a rare event. There was a chance we would get some last night but it didn't happen. I feel very sorry for today's children who, particularly in the south of England, are mostly denied this pleasure, which in my day often involved schools being closed as an added bonus.
I took the photo above in the famous winter of 1962, the year I was able to build an igloo in my back garden.
As an early Christmas present to readers of this blog, I reproduce Louis MacNiece's poem 'Snow'. MacNiece was one of our most intellectual poets but this poem proves there is no antithesis between rationality and emotion. It always moves me and makes me feel better about life and is the perfect antidote to all the ersatz sentiment that sprays over us like noxious slush at Christmas time.
The room was suddenly rich and the great bay-window was
Spawning snow and pink roses against it
Soundlessly collateral and incompatible:
World is suddener than we fancy it.
World is crazier and more of it than we think,
Incorrigibly plural. I peel and portion
A tangerine and spit the pips and feel
The drunkenness of things being various.
And the fire flames with a bubbling sound for world
Is more spiteful and gay than one supposes -
On the tongue on the eyes on the ears in the palms of one's hands -
There is more than glass between the snow and the huge roses.
Louis MacNiece
The Adventures of Carlo Episode 26

When I went to see if the newspaper had arrived, I found a note from the vicar pushed through the letterbox. It read:

Yesterday evening I was leading a group of carol singers who called at your house. It saddens me that I should have to complain to someone who is a respected member of our community that we were subjected to the most disgraceful abuse by a member of your household.
It was particularly shocking that this dreadful language was directed at a group that included members of the Cubs, Brownies and Beavers.
I would have been prepared to make some allowance for the fact that English is not Carlo's first language and that he may not have appreciated the full force of what he said. However, when I protested he said he had been instructed to say this by yourself. Frankly, I am amazed that you would not only teach Carlo this kind of profanity but instruct him to direct it at a group of Christian folk who were spreading the Good News about the birth of Our Lord Jesus Christ. I feel an apology is due, not just to myself but to the youngsters who had given up their evening to raise money for the Church Bells Restoration Fund.
I do have a small apology to make myself and which I would ask you to convey to Carlo. It was wholly inappropriate for Carl Higgins, who has just joined the 4th Beaver Pack, to respond in a like manner and call Carlo a Paki bastard. I have explained to Carl the importance of turning the other cheek and that Carlo hails from the Phillipines which is a far more Christian country than our own benighted islands.
God bless and Happy Christmas,

Peter Dudley-Pratt (Rev.)

I went to the kitchen to discuss the matter with Carlo but he had just handed a mug of coffee to the Sainsburys delivery boy and was brandishing a parsnip and asking him how to cook it. Spotting me, the Sainsburys boy said "Oi, mate, what do you do with this? Is it a fruit or a vegetable?"
"Root vegetable. Cut into strips and roast in the oven with a little butter and salt and pepper and Taste The Difference, Wayne."
If I was his 'mate' it seemed not unreasonable to respond to the implicit invitation of his badge and be on first name terms with him. Moreover, I was not only serving him coffee but running staff training courses as well.
"So, is it, like, ethnic food then?" said Wayne, "how come you didn't know that, Carlo?"
"All food is ethnic", I said, "and parsnips are part of your own rich, ethnic gastronomic heritage, Wayne. Have you never heard the saying 'Fine words butter no parsnips'? That expression itself dates back to the seventeenth century although Wycherley used it in relation to cabbage rather than parsnips and if my memory serves me Thackeray makes an ironic reference to the expression in Vanity Fair."
"What's he on about? Does he always talk like that?", Wayne said to Carlo.
"All day long", said Carlo, "he teaches me everything."
Wayne squeezed Carlo's shoulder in what appeared to be a gesture of sympathy and said to me: "Oi, Mastermind, do you want to sign for this stuff?"
Internet shopping had promised to insulate me from Wayne and his world but instead it had brought them into my own home. Carlo's New Year resolutions must now include, in addition to not saying 'Fuck off' to the vicar, not allowing the Sainsburys boy beyond the side gate.