Leon Jackson Swings to Victory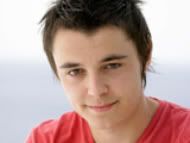 By common consent this was the worst series of
X Factor
, yet it had a surprisingly gripping final and a fairy tale ending.
Leon Jackson is potentially the most talented singer ever to have won the contest. The dilemma for Simon Cowell is what to do with him. Does he go down the pop route and make him sing crap songs like the one released to be the Christmas No 1? Or does he let him sing the swing/jazz numbers that he loves and excels at? He'll probably take a middle road and do a bit of both. Cowell is hardly likely to turn his back on Leon's fan base amongst teenage girls in favour of a more niche market.
Leon Jackson is a far better singer than his inspiration Michael Buble, or Jamie Cullum. And if he can sing like this at 18, what will he be like in another five years? No wonder Buble's admiration of Leon is tinged with the fear that he has a serious rival. And whilst putting his own stamp on an old classic, Leon still respects the song and the composer. Buble and Cullum don't always do that. I have painful memories of Jamie Cullum stamping on the piano keys during
'I Get A Kick Out Of You
.' It became a circus act and, frankly, you don't fuck about with Cole Porter.
Another reason that Leon deserved to win was that for most of the competition he had 'loser' stamped on his forehead. It was only in the last few weeks of the live shows that he gained confidence and suddenly unleashed some amazing performances. In the final, his duet with some pop bimbo called Kylie was an absolute joy, as was his choice of solo number.
I wish it were otherwise, but we certainly haven't seen the last of runner-up Rhydian. The good news is that you may only see him if you pay to see a West End show or tune in to Songs of Praise. In my view, anyone who walks into the audition and smugly announces "
I'm a classically-trained singer
" should be shown the door and given an application form for 'Britain's Got Talent'. The X Factor is a popular music show, one that includes, pop, jazz, rock, etc., but opera is a genre too far. Rhydian was technically flawless but devoid of emotion and warmth. He did cry like a baby on the ITV2 show afterwards but that was probably because he was watching a
fait accompli
gurgle down the plugpole.
Then there were the Stepford Children. For the first time I can remember, I simply had to turn my head away whenever Same Difference were on screen. I'm not exaggerating for effect here. I simply could not look at them.
Charlie Brooker hit the nail on the head when he said they were like two young people that come up to you in the street and give you a religious leaflet.
Every performance was like the end of term show at the stage school. It's true that they could both sing and dance. Unfortunately, they did neither particularly well.
I'll say no more about them because that will mean thinking about them and I need to wipe their stupid, grinning, gurning faces from my memory as quickly as possible.
I've never bought an album by a TV talent show winner but if Leon ever releases a swing album I may well be tempted.
And isn't it wonderful that, after fifty years of pop, rock, punk, techno and rap, an 18 year old shop assistant from Glasgow should be inspired to sing by music that was already old when I was a child?