Count Arthur Strong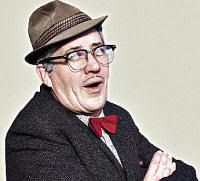 Count Arthur Strong, currently in the 6.30 slot on Tuesdays on Radio 4, is one of the very few comedians who can make me cry with laughter. Even my favourite comedians are doing well if a smile plays about my lips, but that's just a quirk of my character.
Given that most people have a sense of humour (and it's said to be one of the defining characteristics of being human), it's odd that humour should so divide people. And few comics divide people as dramatically as Count Arthur Strong. When his first series was broadcast, Radio 4 received indignant letters saying 'Why are you broadcasting this drivel?' and other letters hailing him as the greatest comic creation of our time.
The creation of Steve Delaney, Count Arthur is a former variety artist with delusions of grandeur. His indignation at not being recognised produces lines like "
Why is it that you people always have to go through this silly rigmarole of pretending you don't know who I am?
"
(It reminds me of when, as a teenager, I was introduced to the old variety and radio star Sandy Powell. He honoured me with his catchphrase, "
Can you hear me, mother!
" Not having a clue who he was, I gave him the kind of blank look those boys in B and Q give you when you ask where the 13 amp fuses are. He muttered into his whisky and went off in a huff.)
Count Arthur lives in a state of permanent confusion and misunderstanding although in his world view it's everyone else who is confused. His conversation is characterised by a combination of mild Tourette's, amnesia, malapropisms and periphrasis.
The accent is a rich and fruity Northern one with frequent modulations into what used to be called a 'telephone voice'. This will be totally lost on younger people because nobody under the age of eighty any longer uses a telephone voice. But when I was a child almost everyone, unless they already spoke like a member of the Royal Family, answered the phone in their telephone voice. If the person on the other end was friend or family they quickly dropped it. If not, they were forced to continue stretching their vowels on the rack of pretension.
In many ways, Count Arthur Strong is a throwback to an earlier generation of radio comedians: people like Robb Wilton, whose sundial sketch I once quoted at length in this blog. He was well before my time but a comedian I adored as a child was Harry Worth and there are definite echoes of Harry Worth in Count Arthur (although I've been told that Harry Worth was equally confused in real life, whereas Count Arthur is a created persona).
My enjoyment of Count Arthur is undoubtedly because this is language-based comedy as much as character comedy. If the physical world was engaged in an organised conspiracy against the great silent comedians, then it's words that conspire to obstruct Count Arthur's bumbling progress through life. Sometimes he has to take several runs at the right word, spitting out several similar words until he hits on the right one or explodes in anger. It's the verbal equivalent of trying to push a shopping trolley up a kerbstone.
Sometimes his brain gets locked into a theme that then infects everything he says. So, musing on war films leads to "
the devil take the Hindenburg
" and a request at the Post Office counter for "
two second world wars
."
From the same episode, there's this brilliant, surreal musing:"
J Cloth......T Junction......U Bend......H Bomb......oh, it gets on your nerves, doesn't it, the alphabet?........Letters.......they might be all right for spelling.......you try adding up with them!
"
In a famous malapropism, the internet became the 'Ilfracombe'. The context was a visit from a TV Licence inspector. Arthur explains that his cleaner, Doris, got her son to do it for him on the Ilfracombe. By way of explanation, he adds: "
I've just had a postcard from Doris, that's why I said 'Ilfracombe'. She's on holiday
."
Most comics would have left it there. The gag's done and dusted. But Arthur then adds: "
Not that she's gone to Ilfracombe. She's in...um....Mablethorpe
." That second punchline lifts it from good to genius.
You may think that malapropisms, like puns, are easy gags to write. I beg to differ. Good ones are very difficult to fabricate. That's partly because the best ones come from real people in real life. I once worked with a woman who, instead of
'next of kin
' always said
'next of skin'
, which is possibly better than the correct version. Or there was the woman I overheard talking about a man with a bad leg: "
You know the man......the one who walks with a lisp
."
I also like the role that food plays in Arthur's life, with his frequent visits to the local butcher and Jerry's Cafe. I like novelists who mention food and it's surprising how few do so when you consider how much time we spend preparing and eating it. Arthur has a predilection for offal, probably because it's cheap, and that also lends a period flavour because liver and kidneys don't feature in many people's diets today.
The episodes that include Malcolm are a particular joy. Malcolm, vividly brought to life by Terry Kilkelly, is a young performing arts student of negligible talent to whom Arthur gives tuition. Slightly camp, epitomising every provincial stage school no-hoper, his delusions of future stardom are a mirror image of the great future that Arthur has behind him. Like Arthur, he is destined to bore strangers with tales of his walk-on parts in today's equivalent of
'Juliet Bravo
.'
I have felt a personal link with Count Arthur ever since reading that his creator, Steve Delaney's next door neighbour, known to him as 'Uncle Willy', was Chief Electrician at Leeds Grand. Steve has since kindly confirmed to me that this was the legendary Billy Kay and that "there is a bit of him in the Count alright!"
In a profession full of eccentrics, Billy Kay became famous throughout the theatre world. A friend took me to meet him in the 1970s. He was welcoming and charming and took me round the Leeds Grand. The bonkers side of him came out when, whilst talking about the history of the theatre, he would suddenly say something staggeringly obscene and then carry on quite normally.
On First Nights he would dress in an ancient dinner suit and wear pince-nezs and he wore a carnation buttonhole most days of the year. He had an idiosyncratic way of calling the lighting cues. For cue 8, he would sometimes shout "
where the oil comes from!
" which is pure Count Arthur. Thank God he wasn't around on my first night in the London theatre. As it was, I didn't understand a word that came through my tinny headphones and wondered why a chap called Alex had so many cues. It was several days before I discovered that the ASM was saying "Elecs cue".
Steve Delaney worked alongside Billy Kay (who was also his Godfather) at the Grand for a while and it's wonderful to think that some elements of that great character live on today through Count Arthur Strong.
This evening I was stupid enough to be chopping tomatoes while listening to Count Arthur Strong's Radio Show and almost severed my finger during his rendition of Churchill's "
we shall fight them at the seaside
" speech. If this is 'cult comedy' it's a dangerous cult to join. But with a third series in the pipeline, a guest appearance tonight by Barry Cryer and the acclaim of his peers, I think Steve Delaney has left that 'cult' tag behind. Of course, some people will never "get it" and their lives will be the poorer for it.
All we need now is a TV commissioner with the courage to translate these series to television, complete with the tuba and harp incidental music. Being television, the pictures won't be so good but it's a well-trodden path from 6.30 on Radio 4 to television stardom and for the Count I think the best is yet to come.
The first radio series is available on CD from Count Arthur's website:

http://www.komediaentertainment.com/count_arthur_strong/index.php
or from Amazon.
This post is dedicated to the memory of my dear friend Ronnie Brooks who introduced me to Billy Kay and to the wonderful backstage world of British theatre.
My thanks to Steve Delaney for additional information.