Gavin and Stacey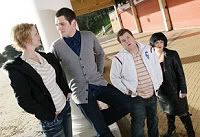 Congratulations to
Gavin and Stacey
on its success at the Comedy Awards.
I'm ashamed to say that for a long time I avoided this series, having irrationally decided that I wouldn't like it. I still haven't seen the first couple of episodes but I'm eagerly awaiting the second series.
But I fear that when series one is re-shown and billed as "multi-award-winning" some people are going to be disappointed. Not because it isn't brilliant but because this is the gentlest of comedies. It's a 'slice of life' comedy that sometimes reminds me of Mike Leigh's work, partly because it features Alison Steadman as Gavin's mum, doing a variation on her many Mike Leigh roles.
If there's one quality that defines
Gavin and Stacey
it's
warmth
. One could equally say
heart
or
soul
. It's a million miles from studio-based sitcoms like
My Family
or
Not Going Out
. There are wonderfully funny lines but no 'gags'. All the characters are 'real people' - in fact, less bizarre than some of the people one meets in everyday life.
I've heard the two friends of Gavin and Stacey (played by the writers Ruth Jones and James Corden) described as 'grotesques' but I think they represent the kind of stupid and unappealing friends that most people acquire in their lives and simultaneously "put up with" and feel inexplicable affection for.
It also features by far the funniest performance Rob Brydon has ever given, as Stacey's Uncle Bryn. I was going to describe him as Stacey's gay uncle but if Uncle Bryn were to read that he'd be horrified because he doesn't know that he's gay. The programme's website says only that he's "
terrified of sex
". Stacey does have a gay brother and there are many references to something that happened between him and Uncle Bryn on a fishing trip that causes Bryn to become deeply uncomfortable in his presence. But we are never told what this was. This is a good comedy trick, like having characters who never appear - remember Captain Mainwaring's wife who once came within seconds of walking into a room when an air raid siren went off and we had to be content with our mental image of her?
Uncle Bryn is the person you would least like to sit next to you on a train or stand next to you at a bar. There's a hilarious scene where he shows Gavin, who works in IT, how to use a computer. Bryn has come up with some strange mnemonic to remember the letters WWW. Gavin suggests that 'World Wide Web' might be better. Bryn concedes that's quite good and says he might use it in future.
Talking of Stacey's previous boyfriends, Bryn says they were all good-looking boys. Then, with breathtaking ingenuousness, he adds: "
melt in the mouth, all of them
." An uncomfortable silence descends on the room. I felt so embarrassed I almost walked out of my own living room.
I may be quite wrong about Bryn. It may be that what happened on the fishing trip was that he pretended to have caught a fish that he had previously bought at the fishmonger in order to impress his young nephew. That possibility only emphasises the subtlety of the writing and the characterisation.
That I've been able to write this much from memory and from just one viewing is proof of the quality of the writing and the power of the acting. If you want knowing caricatures of family life, raucous studio laughter and lots of mugging and close-up reaction shots, stick with
'My Family'
. (Or, if you haven't time for that, watch the current BT commercials). But if you want something fresh and warm and altogether classier, watch the next showing of
Gavin and Stacey
. Or buy the DVD, kick the family out and settle down to a Boxing Day treat.