PC's Tits Up, Software's Chuddies Are In A Twist.........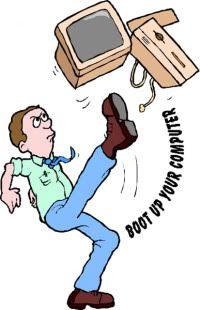 .........and what's the weather like in Delhi? It's pissing down in Middle England.
For a few hours yesterday I lost my internet connection. It's extraordinary what panic and rage this induces, even in those of us who have lived most of our lives in an internet-free world.
AOL, like so many other companies, have now moved their call centre to India. The first person I spoke to talked me through all the usual software checks and tweaks which took about twenty minutes before saying she'd just noticed that BT were working on my line and things would be back to normal in two hours.
When I phoned again two hours later I was again told it was BT's fault but this time I was told the connection would be down for two days. In the circumstances, it was not a good idea to end the call with "
thank you for calling AOL, Willie. You've been talking to Sanjeev. Have a great day!
'
Not having a trusting nature, I then rang BT and eventually succeeded in talking to a human being. He may also have been in Delhi, but I can't be sure.
Being capable of great stupidity, I thought BT would have a daily list of exchanges where engineering work was taking place. They didn't, of course. But I was told that if work were being done it was most unlikely that my telephone would work. However, I could not persuade BT to agree with me that AOL were
'lying bastards
'.
Anyway, the connection suddenly resumed and I think the fault was in AOL's own network.
My first conversation with India took a long time, at my expense, because I had difficulty understanding the lady's accent. This is becoming a common problem. My elderly father who is very deaf can seldom understand anyone at Indian-based call centres and has to ring off.
Admittedly, I sometimes had difficulty with very strong Irish accents when AOL were based in Ireland. But it's much worse when you're talking to someone whose first language is not English. I found myself yesterday constantly re-phrasing things to get rid of slang expressions. If I said my PC was
'just revving up
' would they know what I meant?
I once heard a customer in
PC World
give a lengthy, technical account of what was wrong with his computer. The engineer relayed this to his colleague as "
It went phut! It's gone tits up
."
Do the people in Delhi have a phrase book that explains that
'tits up
' is not an inapppropriate reference to the
Kama Sutra
but an indication of total system failure?
Should people with very strong accents of any kind be employed in call centres, unless they're only servicing the locality in which they live?
Let's take an extreme example, a
reductio ad absurdam
. Would somebody with a serious stammer be employed in a call centre on the grounds of equality of opportunity?
What is the correct balance between avoiding discriminatory employment practices and giving good customer service and applying good old common sense?
I don't know the answer. I just ask the question.
Maybe I'll ask Sanjeev next time my software's got its chuddies in a twist and I'm experiencing the inter-continental joys of the global economy.