Ex-Minister In Golf Course Plus Fours Shock Horror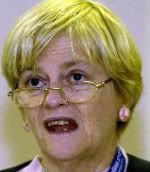 There must be limits to the horrors one subjects oneself to in the interests of blogging. It is, after all, an unpaid activity and meant to be a pleasurable one.
Yet recently I have watched Anne Robinson on television and made a close textual analysis of the song
Honey
. So, despite the best of intentions, I didn't manage to watch Ann Widdecombe's new programme last night.
I said, in the words of Mr Meatloaf,
'but I won't do THAT
.'
This is an agony aunt style of programme, although Ms Widdecombe's contract specifically excludes sexual problems. An eminently sensible exclusion because the sight of Ms Widdecombe closing her eyes tightly, as she always does when she speaks, and trying to get her mouth round
'premature ejaculation
' would breach every guideline on taste and decency. And probably put the youth of Britain off sex for life, although she would probably regard that as a great achievement.
What I said at the beginning was only 98% true. For I did see a few minutes of the programme, in which she tried to reconcile a woman to her husband spending too much time on the golf course.
Perhaps it's just me, but this doesn't grab your attention to quite the same extent as Jerry Springer with the man who married his cousin's transvestite horse.
It did give us some deeply disturbing footage of Ann Widdecombe in plus-fours scurrying around a golf course like a giant, genetically modified rodent.
The wife in this case, who had foolishly taken the security chain off the door and allowed Ann to invade her living room, turned to the camera afterwards and said "
She's not the full ticket, is she?
"
There's not much you can add to that.
Except to explain to overseas readers that Ann Widdecombe is a right-wing Conservative politician who early in life bought a
Supersaver Awayday
from the rest of the human race and is yet to make the return journey.
And to note that one day Ken Clarke will become leader of the Conservative Party by default because all the other comedy weirdos will have disappeared to pursue lucrative television careers.

I know The Bill has a voracious appetite for actors and that many actors would starve if it weren't for bit parts in The Bill.
An old friend of mine turned up in it recently as an alcoholic tramp. Then again, he might now be an alcoholic tramp who just happened to wander into shot and was left in to provide gritty realism.
But I think the casting directors should exercise a little more care.

Coronation Street's resident detective, who only recently banged up poor Mrs Harris for a crime she didn't commit, has turned up in The Bill as a criminal supergrass.
To add to the confusion, one of The Bill's detectives said she used to know him in Manchester. So I immediately decided that he'd been sent down to London's Sun Hill from Weatherfield on an undercover operation and I was soon engrossed in a plot that bore no relation to the one the writer had written.

I believe The Bill has an '18 month rule'; that's the time that must elapse before an actor can appear in The Bill again. But for the easily confused they should have a similar rule for actors transferring or moonlighting from other soaps.
It must be especially disorientating for the many people who think soap characters are real people. How did they ever get their heads round Barry Grant from Brookside popping up in The Bill and having an affair with one of the Nolan Sisters?