Sumac Stunners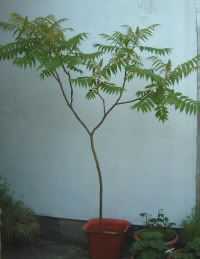 Time for another
Willie Tip
in our cut-out-and-keep gardening series.
Don't waste money on expensive, exotic patio plants like bamboo. If you have a
sumac
tree or know someone who does, the young shoots make wonderful container plants.
I have about eight of these dotted around my garden. If I were being pretentious I'd say they form a
leitmotif
.
Sumacs are regarded as sacred trees by the North American Indians, who make medicines from many parts of the plant.
It's also used as an ingredient in Arabic cooking. The seeds can be crushed to make a spice, although I've never tried this.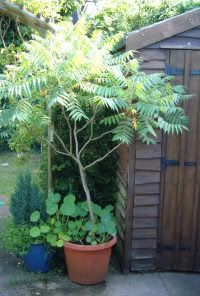 Here's what you do. Dig out one of the young shoots from around the base of a sumac tree. Stand it in a bucket of water for 24 hours. Then plant it in a container of compost. It doesn't have to be a particularly large container. One of my largest specimens is in less than a foot of soil.
For a couple of weeks or so the shoot will appear to be dead. But keep it watered and eventually it will revive and flourish. Give them a liquid feed in the spring and keep them watered in dry weather.
Although quite common trees across Europe, the Mediterranean, North America and North Africa, many people are unfamiliar with them and visitors to your garden will think they're something rare and exotic. Be sure to do a Google search for sumacs so you can impress people with the many fascinating facts about these trees, or perhaps bore them to death as I did a neighbour recently.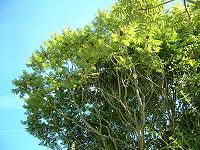 The second picture from the top shows one placed to partially conceal and to soften the hard contours of a small shed.
The bottom picture shows the large parent tree, still with a few of last year's spiky flowers because I'm too old to climb trees and remove them.

I have to admit to a floral faux pas.
Remember a previous
Willie Tip
about using old towels to line hanging baskets? Well in two of them I've planted bush lobelia instead of trailing lobelia. This means those old bath towels which have had such an intimate acquaintance with Willie Lupin's ageing yet vestigially nubile body will be exposed for the rest of the summer.
It's not really my fault though. I was convinced that the local shop had put the wrong labels on their lobelia.
"
I don't want bush
", I said to them.
"
Nothing new there, then
", somebody muttered.