He's Back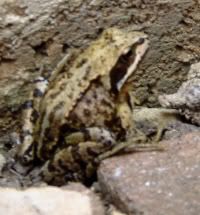 You may remember I posted this photo of Peter the Frog a short time ago. He re-appeared in my garden this afternoon.
Amazingly, he sat still while I gave him a shower with the hosepipe.
He soaked up at least a gallon of Thames Water's finest. Yes, I know the reservoirs are running dry. But the bastards are charging me £20 a month for the stuff that falls from the heavens. And with the temperature around 90F my amphibian friend deserved it.
I think he wanted another photo taken. This internet fame has gone to his head.
Next thing you know he'll have an agent and be appearing on Celebrity Frog Island.