The Joy of Herbs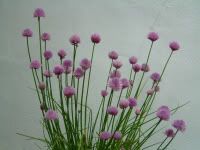 I was almost too upset to blog today because one of the majestic foxgloves that I hadn't staked snapped in half in the heavy rain.
To avoid a repetition of this horticultural tragedy I've just been out and driven in more stakes than you'd see in a Dracula film. Cursing and hammering in the storm, you'd only have needed Panavision and a thunder soundtrack to mistake me for Vincent Price.
While I recover, let's consider less troublesome plants.
Herbs are grown for their flavour and scent and I always forget the amount of colour they bring to the garden in early summer when annual plants are still finding their feet. Herbs are very good patio plants and most of mine are in pots. In some cases, like mint and sage, this is to stop them running rampant. Most of them are very resilient so they won't suffer if you forget to water them, although mint in pots tends to droop in dry spells. A man who runs a herb farm told me he hadn't watered his plants in 30 years.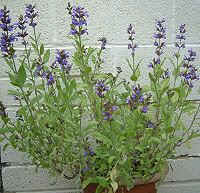 From the top: chives, which you can never have enough of. Well, I can't. I'd probably sprinkle them on top of a trifle if I ate trifles.

Then thyme. Can't remember which variety this is but it flowers well.

Finally, sage.
These flowers are very popular with bees although sage honey sounds rather revolting.
We're always told that attracting bees to your garden makes you a hero of environmentalism. But they're the bane of my life. Every time I water or put stakes in they're buzzing round me, resenting my intrusion. They're not usually aggressive but then how overtly aggressive do you need to be if you're swaggering around with a poison-filled hypodermic at the ready? I hate the little bastards.