Sir Ian Gives Us His Mel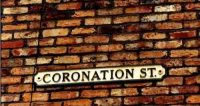 We must be about halfway through Sir Ian McKellen's stint in
Coronation Street
, and what a joy it has been.
McKellen plays a pretentious, third-rate (or even tenth-rate) novelist, Mel Hutchwright, author of
Hard Grinding
which has been read by the Street's Book Club. (As is depressingly usual, some viewers have been trying to buy the non-existent book at bookshops).
The intriguing thing is that whilst McKellen squeezes every drop of juice out of this wonderful comic part he also underplays it. I suppose that's why he's one of the elder statesmen of British theatre. One of the ways he achieves the element of understatement is by usually talking quietly. But - and this is the clever bit - because you sometimes have to strain to catch the nonsense that he spouts, he focuses attention on himself as effectively as he would with a roaring Falstaffian interpretation that many lesser actors would have gone for.
McKellen's character reminds me of a man I sometimes met in a pub many years ago who claimed to be a writer. So far as anyone knew he had never written anything more taxing than a shopping list but, peering over his half-rimmed spectacles, he would sigh and shake his head and explain that he'd had writer's block for the past twenty years.
He would then quote from letters he'd received that very week from different eminent writers who were suffering from the same affliction. He never explained how he came to be the confidante of these literary giants nor how, despite their writer's block, they were publishing best-selling novels every year while he was condemned to waste his prodigious talents by spending twenty years in the
Dog and Duck
boring the bollocks of people.
The greatest delight of this year's
Soap Awards
was the special award given to
Coronation Street
writer John Stevenson. I've mentioned (Sir) John Stevenson (hint for the next Honours List) here before. The most gifted of the Street's writers, and with the most recognisable 'voice', he has written almost 450 episodes. That's over 200 hours of television drama.
Although I think he's also written a few one-off dramas, he's mostly stuck with Corrie for which viewers should be very grateful. There's probably a lesson in that. If you're brilliant at something, there's no need to regard it as a stepping-stone to something that's regarded as more worthy or prestigious.

I watched three episodes of Father Ted on E4 the other night and noticed that the writers do something that may be unique in comedy writing (let me know of any other examples). They sometimes do self-referential gags about the process of comedy writing itself.

The most obvious example was the episode where Ted and Dougal are watching a television comedy that is an exact replica of Father Ted itself but without realising that they're watching a mirror image of their own characters and lives.

But I saw two more subtle examples the other night. Firstly, Ted tells Dougal he feels like a character in a movie. Dougal says he's never seen it and Ted replies: "Not many people have. That's why it was a bad reference."
The second one is even more extraordinary because they start a plot line and then reject it in front of our eyes.
A woman leaves a baby on their doorstep. Then she takes it away again saying that she's got the wrong house. Ted then muses to Dougal on how funny it might have been if they'd had to bring up the baby themselves and all the jolly japes they'd have had in the process. Then, on reflection, he says it wouldn't have really been that funny and we return to the actual plot of the episode.
I gasped when I realised what they'd just done there. I'd completely missed it on the first viewing. It proves that the best TV comedies often have hidden depths.
One day I'll write about the sub-text of Keeping Up Appearances.
Unless you beg me not to.