Election Blog (15)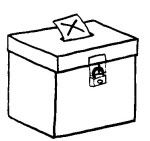 I've already asked if next Thursday night will have a 'Portillo Moment'. But will the campaign have a 'Sheffield Rally Moment'?
That was the Labour Party rally in the 1992 election which was perceived as a premature victory party a week before polling day and at which Kinnock punched the air and shouted
'We're Alright!
' He was probably going to lose anyway but most people watching thought
'he's really blown it now'
.
I always thought he shouted
'Well, all right!
', not that it makes much difference. But with Kinnock it wasn't always easy to know what he was saying. In his famous Conference rant against Militant he talked about cold pickles. At least I think he did. I've watched that clip many times and still can't decipher that particular phrase. Maybe I'll write and ask him about both quotes. He used to be quite chummy with my father and, whatever his faults, was one of the most approachable and personally pleasant politicians we've ever had.
I don't think there's any risk of Labour making a mistake like the Sheffield Rally again. But it's funny how a small thing that seemed a good idea at the time can come to be regarded as a defining moment of a campaign.
I don't know how it played in America, but if one our leaders tried the John Kerry
'Reporting for duty
' line complete with salute you'd be able to hear the sound of mass retching in New York and several million votes would instantly go down the pan.

Tonight on BBC1 we have the three party leaders appearing consecutively before the same studio audience.
My prediction is that the repeat of 'The Truth About Killer Squid', on C5 at the same time, will achieve astonishingly high ratings.
Some might say that you'll get more Truth if you opt for the Killer Squid than if you opt for the Killer Blair.
But this blog strongly deprecates that kind of cynicism about politics.

For petty, mindless racism, a comment made to a Guardian reporter by a voter in Goresbrook, East London, takes some beating. The man said he was walking his dog when a French-speaking African woman pointed his dog out to her little boy and said 'Chien, chien.' The man said to her 'No, it's a dog. We are in England!'
We must hope that he didn't go home and find Dionne Warwick on the radio singing 'Deja Vu'.

The real lesson of the Attorney General's leaked advice on the legality or otherwise of the Iraq War is a constitutional one.
Blair always says that this was independent and objective legal advice from the Government Law Officer. But the Attorney General is a political appointment (appointed by Blair) and a member of both the Cabinet and the House of Lords.
The traditional argument has been that this kind of overlapping of roles is more practical and effective than an absolute separation of powers. But can people really have confidence in the advice of a political appointee who owes his position and his substantial salary to the Prime Minister he is advising?
It's significant that the majority of experts in international law thought that the war was illegal, as did most of the Foreign Office's legal team. Indeed, one senior member of that team felt so strongly that she sacrificed her career and resigned.
It seems to me that we need to change the system so that legal advice to the Government is genuinely independent and transparent with the arguments and decisions of the lawyer or panel of lawyers published and presented to Parliament.