Adwatch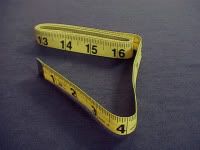 The bakers
Warburtons
are running a TV commercial for a new loaf that is identical to a wholemeal loaf -
except that it is white
.
Why?
Or
WHY?
Or even
WHY???

The only explanation I can come up with is that they have identified a new niche market of wholefood racists.

A jeans manufacturer has a commercial for a new brand of jeans 'with anti-fit'. I was still struggling with this concept when I heard a woman fashion expert on the radio say "Of course, most clothes now are anti-fit".
What the hell is going on?

Do the chaps in Menswear now say "Would Sir like to try them on to make sure they don't fit?"
Do those same chaps no longer have to take inside leg measurements, which if you led a sheltered life could be the highlight of your week? For some of those old time shop assistants it was a labour of love and they would measure your inside leg even if you were only buying a tie.

Presumably anti-fit means tailors no longer have to ask if you dress to the left or the right. For mothers who took their sons to buy suits or trousers, briefing them on the correct way to answer that question was a greater challenge than explaining human reproduction.
When I was twelve and my mother bought me my first suit at Messrs Fosters, I fell instantly in love with the 16 year old apprentice tailor. As he guided me into the changing room he whispered "I'll come in and see how you look before your mother sees it." I stood there trembling with excitement until he entered and knelt down and tugged at the trousers and jacket and sleeves but mercifully stopped short of verifying whether I'd answered that tricky left/right question truthfully.
Behind my innocent face I was thinking that if I could persuade him the suit didn't fit it would have to be altered and that would lead to further intimate encounters in the changing room.
But that sodding suit fitted perfectly so I only ever glimpsed him again through the doorway as I loitered outside on my way to buy extra segments of track for my Hornby model railway.
I hesitate to call this a seminal experience because it wasn't in either sense of the word. But since it was so easy to retrieve from my long-term memory I suppose I should be grateful that it never led to an attraction to sex in cubicles.

I suppose 'anti-fit' also means you'll be a laughing stock if you take clothes back to Marks and Spencer for a refund on the grounds that they don't fit. "Hey Tracey, this bloke just said his jeans don't fit! And I was like 'Duh, look at the label, they're anti-fit.'"

Of course when you get to my age you have a wardrobe of clothes that no longer fit. But the joy of finding that you're suddenly the height of fashion is tempered by the fact that you can't wear the bloody things.
Even if you've been fortunate enough to retain the sleek style of an Afghan Hound, just an inch on the waist means your once favourite trousers feel like something devised by the Spanish Inquisition. Unless you're lucky enough to have access to a little old lady who will put gussets in for 50p a time and the occasional packet of Gypsy Creams. But they're literally a dying breed. There used to be one such in my village but she once provoked raised eyebrows and a lot of whispering when I met her in the newsagents and she said "Mr Lupin, when are you going to come round and collect your trousers?"

Fashion psychologists have said that the current fashion for baggy clothes among teenage boys is due to self-consciousness about their bodies. But that's something that has always occurred at puberty. So unless this generation are particularly sensitive, it doesn't explain why in the sixties and seventies we all walked around in jeans so tight that questions about dressing to the right or left would have been unnecessary.
Today, it even extends to a refusal to wear swimming trunks or speedos as they're now called. I was watching one of those life-swap programmes where a British family went to France. Their young son caused a huge scene at the school swimming lessons because he refused to wear speedos. Yet the French children all did so. So maybe this is a British or Anglo-American phenomenon. Actually, since most music and sports fashions - like skateboarding - associated with baggy clothing originate in America, let's say it's their fault. We blame them for most other things.
Don't blame it on the boogie. Blame it on the Yanks.