Down The Canal On A Doily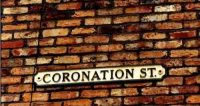 Since there's nothing in this blog's Mission Statement about topicality, we offer belated congratulations to
Coronation Street
for winning a South Bank Show Award two weeks ago. This was the first time a soap has won an award in the Drama category, or even been nominated for one. My delight was tempered by the fact that Corrie stopped the award going to
Shameless
and that was ironic because the latter's creator, Paul Abbott, began his career on Corrie.
James
has referred to Paul Abbott revealing in an interview that Corrie paid him £200 grand a year and that also took
my
breath away, bearing in mind that was before he became a 'star' writer. Are all their large team of writers on that kind of money? And what are they paying Jonathan Harvey who has joined Corrie after a successful career in TV, theatre and film?
Worth every penny of course. Every one of them, especially the great John Stevenson. When they put the writer's name at the end instead of, as now, at the beginning, my party trick was to identify a John Stevenson script before the credit went up. His particular strength is comedy which is also one of the programme's greatest strengths. So is regional idiom. We non-Mancunians never know which expressions are authentic and which have been invented by the writers. A recent gem was a character registering disbelief at what someone else had said by saying "
and I've just come down the canal on a doily!
"
Paul Abbott and Jonathan Harvey have some similarities as writers. Both can make you cry and make you laugh in quick succession. The extraordinary and mysterious thing is how they achieve pathos without recourse to cliché or sentimentality, sometimes without words at all. No "
he/she will come back - you'll see
." (Why do people always say "
you'll see
" in TV dramas?). No "
I'll always be there for you
". No "
but you're Family
!". They let the personality of the characters and the skill of the actors do a lot of the work and leave banality where it belongs - inside the worst kind of greetings cards.
No
Shameless
fans will ever forget the silent scene in series one where young Debbie put her arms round her older and usually stronger brother Lip to console him. Or the scene where Lip pissed on his father from a bedroom window, one of the few times I've laughed and cried simultaneously. Whilst it's mischievous for a writer to play with a viewer's emotions like that and send two contradictory emotional triggers at once, it takes sheer genius to pull it off.
Thank God that with so much formulaic drama on TV and ITV's wretched star system (Quinton, Clunes, Kemp et al), we've still got some outstanding drama and comedy (
Corrie
,
Shameless
and
Green Wing
) which shine like diamonds in a dustbin.
It has been pointed out (by the miniature imaginary reader who sits on my shoulder) that this blog does not in fact have a Mission Statement. It often has a recognisable position on the issues of the day but that is not necessarily a missionary position. But in today's cut-throat corporate world, if you don't have a Mission Statement you're toast. Or pants. Or possibly toasted pants. Anyway, an emergency Working Party will convene tomorrow morning to develop a Mission Statement that encapsulates key elements of our Corporate Strategy in an accessible and customer-focused way.
Shit, do we have a Corporate Strategy?
I'll have to get back to you on that one.