Ghosts On Film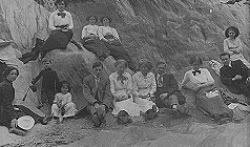 Tonight sees the final episode of
The Lost World of Mitchell and Kenyon
on BBC2. I almost missed these wonderful programmes because I thought from the trailers they were a spoof of some kind. They are in fact some of the earliest movies ever discovered and had lain undisturbed in the basement of a Blackburn shop for nearly 100 years. For the first time we are able to see scenes of life in Edwardian Britain with astonishing clarity and little of the jerkiness that usually characterises early films. Last week's programme even included the first film footage of a Manchester United match.
They were made by two businessmen who cashed in on the novelty value of the new invention by filming people in the street and leaving factories and then charged people to come and watch themselves - the first generation able to do so. It's a reminder of how very recent 'moving pictures' are, with still photography not much older.
I find these films almost unbearably poignant. All the people in them are dead and many of the children jumping around in front of the camera and twirling their caps in the air would have been killed in the First World War. In a sense one is looking at ghosts, except that ghosts don't run after trams or play rugby and football and occassionally, in a startlingly contemporary gesture, raise two fingers to the camera. It's a reminder of how ephemeral human life is and raises those old questions of what happens to the past and the nature of time.
Occasionally I've experienced a kind of time-warp in real life. About twenty years ago a friend took me to a Tyneside pub that had remained almost unchanged since the beginning of the last century. It was divided into several small bars. The one we used had an ancient piano with some of the keys half burned away where generations of pianists' cigarettes had fallen onto them.
We sat with a group of elderly ladies most of whom had worked as prostitutes when they were younger. Their warmth and friendliness made us feel we had been going there all our lives. They flirted with us shamelessly yet innocently and when we left insisted we kissed their heavily rouged and powdered cheeks. As we walked away from the pub my friend noticed the tears in my eyes. I blamed the cold wind blowing off the North Sea. But, as L.P. Hartley said, the past is another country. I had just made a brief visit there on a temporary visa. I knew I could never return because soon it would cease to exist, along with the lives, emotions and memories of its inhabitants, the ordinary, forgotten, unmourned, uncelebrated people of history.
*****
The photograph above I dug out of the family archives. I don't know the year but it's from the same period as the Mitchell and Kenyon films. It's a seaside holiday in July but notice the amount of clothes being worn. The only concession to summer is that most people have removed their hats except my grandmother (fifth from right) who is wearing a cross between a meringue and a tea cosy.