Beautiful People: A Beautiful Thing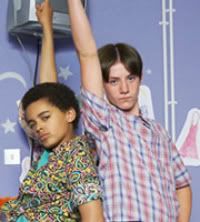 I hate the phrase
'cult comedy
' but I suspect
Beautiful People
(
BBC2
) may have merited that tag more than most. I'm surprised that I enjoyed it so much given that I'm generally resistant to the charms of camp men. (I belong to that class of gay men who argue that if we found femininity attractive then we would be heterosexual).
But in this case, the drama was heavily dependant on the 'differentness' of the two lead characters and the two boys who played Simon and Kylie (
Luke Ward-Wilkinson
and
Layton Williams
) were both jaw-droppingly brilliant and immensely likeable. Nobody will be at all surprised if they develop into major stars. Arguably, Layton Williams is already a star, having played
Billy Elliot
in the West End.
The dance number I mentioned in my
previous piece
remains the series' finest moment. But last night's final episode also had a great dance number:
YouTube
On reflection, to say that the two boys personified gay stereotypes is too simplistic. There was an episode where Simon's Dad is prevailed upon by his wife to "
macho him up
" by teaching him football. This began with Simon flapping his arms and screaming every time he kicked the ball. It was very reminiscent of Renato teaching Albin to butter toast in the cafe in the film
La Cage Aux Folles
- one of the funniest scenes in one of the funniest films ever made.
But then came Simon's epiphany when he realised that football is just another type of choreography. He goes on to become the star player in the school team.
This was wonderfully perceptive. For the
dancing fe
e
t
of Christiano Ronaldo are just that:
dancing feet
. And a football match is nothing if not a piece of theatre. That's why I love it so much. That's why it's
The Beautiful Game
. There's that word '
beautiful
' again, albeit not a term one would apply to all its exponents. Wayne Rooney, anyone?
The football episode also provided another example of writer Jonathan Harvey's trademark style. The school bully and Simon's former tormentor presents him with a Spice Girls doll, knowing he will like this more than a silver cup. Just as we're all reaching for the Kleenex, the boy says "
one more thing
" and punches Simon in the face. "
Sorry
", he says, "
force of habit
."
This series will long be cherished as one of the finest gay-themed comedy-musical-dramas. But it reached out beyond a niche audience because it dealt with universal themes - the power of dreams, family relationships and the
audacity of hope
(©B. Obama).
It frequently moved me to tears because it was suffused with love, optimism and human resilience.
One of its heroes was Simon's Irish plumber father, reluctant to try and change Simon because "
we said we wouldn't be like our own parents
." And because "
he's my son and I love the bones of him
."
That's one of the reasons why Simon's concluding thought is: "
wanting to find the beautiful people when maybe they were closer to home than I thought
."
I've mentioned that Jonathan Harvey can rarely serve up sentimentality without immediately puncturing it. But as his play/film
Beautiful Thing
showed, he usually eschews cynicism at the very end. Thus it was that
Beautiful People
ended with the adult Simon putting a hand on the shoulder of his younger self and whispering "
It's going to be all right
."
Those six conjoined words being the most priceless in the language, the six words that we had all longed to say to Simon and Kylie for the previous six weeks. The six words many of us would like to have been able to say to our 14 year old selves.
And having just watched the last ten minutes again to get my quotes right, maybe my praise for this series hasn't been lavish enough. It had its flaws and sometimes misfired but it also had moments of genius and was a magnificent achievement by everyone who created it.
Thank you, BBC.
DVD available from all good Amazons.