Saturday's Snippets
Watching a fragment of last nights'
Sport Relief
telethon,
BBC1
, (and I'd certainly donate to anything that gave me some relief from sport), reinforced my view that
Davina McCall
is the most irritating woman ever to appear on television.
It's a hotly-contested field that has included Anneka Rice, Carol Smillie and Ann Robinson but Davina definitely takes Gold.
Even Uncle Bryn in
Gavin and Stacey
(returns tomorrow,
BBC3
), who tries to see the best in everyone, made disapproving comments about her at Gavin's second stag night.
A few years back when she was presenting
Pop Idol
she had already begun to screech like a crow with a garden cane stuck up its arse. But back then there were still intervals of up to 20 seconds when she managed to almost speak like a normal human being.
Today, maniacal delivery has completely taken over: over-stressed words, crazed gestures, grimacing, gurning and that
I'm just managing to hold back the tears
face.
It's the verbal equivalent of a letter written in
green ink!!!, every other word underlined and sprinkled with triplicate exclamation marks!!!

For the sake of her family, I hope she's able to switch it off when she steps away from the camera and achieve some simulacrum of normal human discourse. This must be the case or someone would have shot her by now.
Whatever you think of
Polly Toynbee
, she's a columnist who backs up her arguments with thorough research.
Yesterday she had found in the small print of the budget that the Treasury now estimates that the cost of tax avoidance has reached £41 Billion, way above the TUC's estimate of £25 Billion. She didn't put this into the context of the overall budget so here are some astonishing facts. The revenue lost through tax avoidance is greater than the entire defence budget (£33bn). It also exceeds the cost of debt interest (£31bn). And it almost equals current Government borrowing (£43bn).
Unless I'm being fiscally simplistic (which is quite possible), closing down most tax loopholes would mean we could almost eliminate borrowing and balance the books or, alternatively, increase health spending, provide free social care for the elderly or do any combination of other things on the currently '
unaffordable
' wish list.
Maybe the Government should spend more time shutting off tax avoidance scams and less time hounding benefit claimants and pushing the mothers of young children into work.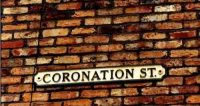 Overseas Readers
:
No spoiler
.
Last night's
Corrie
was heavily trailed and eagerly anticipated. The writers have clearly been eager to give
Jack P Shepherd
(David Platt) ever meatier scenes, since both viewers and critics became aware of his capabilities. How would he acquit himself in his showdown with Gail? Magnificently, as it turned out. This was another gripping, believable, emotionally intense
tour de force.

I would single out one moment when teenage bravado and smiling sarcasm turned, in the blink of an eye, into tears. This was
MacArthur Park melting in the rain
, the bright green icing not so much flowing down as swept away in a maelstrom of love, hate, anger and bitterness.
As always, I'll name-check the writers, Debbie Oates and Jayne Hollinson.
And lets hope Jack stays in
Corrie
. I'd hate to see him doing guest parts in crap like
Midsummer Murders
or
Heartbeat
.
Did I mention that the second series of
Gavin and Stacey
starts at 9pm tomorrow on
BBC3
? As my fellow blogger Betty said
'let joy be unconfined
.'
From the numerous recent interviews with the writers we now know that both Peter Kay and Alan Bennett are ardent fans. (Those two are not so dissimilar, both having an acute eye and ear for humour in the ordinary).
A warning: I'll be writing about Gav and Stace again in the future, because although some people said 'there's nothing to it', the more you watch it the more you discover to enjoy. It was only on a second viewing that I realised how good the direction, editing and use of music was.
Will we discover what happened on that fishing trip?
Will we ever see Smithy's young girlfriend?
I rather hope the answer is 'no' to both.
And, no disrespect to James Corden, but I don't really want to Smithy in a thong again.