Pick of the Day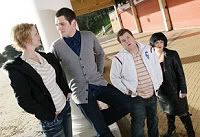 Saturday TV seems a bit of a desert at the moment. Even Ant and Dec have lost some of their appeal, having ditched most of the elements in their show that appealed to anyone over ten years old.
But tonight offers one of the biggest treats of the year.
BBC2
is showing the entire first series of
Gavin and Tracey
, back-to-back from 9.30pm.
It's rare, if not unprecedented, for a terrestrial channel to do this with a comedy series and proof that, by some strange alchemy consisting of a great script and terrific performances,
Gavin and Stacey
became one of the most endearing new comedies of recent years. We'll have to wait for the imminent second series to decide whether it's at the top of the 'minor classics' list or something even greater.
It's proof that comedy doesn't necessarily have to be edgy or push the boundaries to be successful and there's almost no swearing.
For me, one of the tests of good comedy is how much I remember from a single viewing and whether I can smile at the recollection of particular scenes. With Gavin and Stacey there are dozens of scenes I'm looking forward to seeing again, many of them featuring Rob Brydon's brilliant performance as Uncle Bryn. Look out for his car journey using SatNav and the disastrous Stag Night he arranges for Gavin. Then there's Smithy (James Corden, co-writer) compering a pub Quiz Night in return for unlimited free beer and becoming so drunk he can hardly read out the questions. (I've witnessed a couple of hilarious pub Quiz Night scenes myself but I'll keep them quiet in case I ever write a sitcom).
So if, like me, you came to it late or if you've never seen it, here's your chance.
Then tell me why you hated it. I dare you.
I wrote about it a little more fully here:
http://goinguphill.blogspot.com/2007/12/gavin-and-stacey.html