It Shouldn't Happen To A Toyboy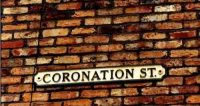 Well, Liz MacDonald's toy boy didn't last long, even though he came with batteries included. Indeed, they must have been those Duracell batteries that just keep on going when toy boys fitted with an inferior product are sleeping the sleep of the sexually satiated.
But now the poor, besotted boy has been cast aside after just a few days, like last year's Action Man.
The catalyst for his dumping was Liz's meeting with the boy's mother. Far from being disapproving of the age difference, this woman was excited by the possibility of a mother and son foursome.
Although it never happened, surely the very suggestion of two middle-aged women engaging in what the tabloids would call a
'son-swopping romp
' must be one of the most extraordinary notions ever to appear in a mainstream soap?
You sometimes wonder what they're smoking at
Corrie
script conferences.