The Butcher, The Baker and a Randy Drummer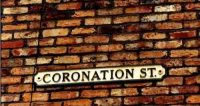 There was a cracking episode of
Coronation Street
last night with that clever mixture of light and shade for which the programme is famous.
Daran Little, like Jonathan Harvey, has that rare gift of being able to put comedy and pathos in the same scene. Paul Abbott is a former Corrie writer who can pull off the same trick.
Dinner dances of the Weatherfield Traders' Association are always a delight, mining the same seam of provincial social comedy and self-importance that David Nobbs did so well in
'A Bit Of A Do'
.
Liz managed to escape from Diggory the baker to get off with the drummer in the band. In a sublimely Freudian scene he allowed her to feel his drumsticks.
"
They're like Fred and Ginger
", said Bev of Rita and Norris who were cutting a swathe through the dance floor.
"
Which one's Ginger?
", said Fred.
Deserted by Liz, Diggory hit the bottle before taking to the stage to dramatically resign from the Presidency of the WTA and make a drunken and rambling speech about the way that disappointment had always been hanging over his life like a vulture. When the band struck up in a vain attempt to silence him, Diggory continued his maudling diatribe against a cruel world over the music.
It was both hysterically funny and unbearably sad.
There was a striking similarity to the ending of Sondheim's
Follies
. Not the 1987 London staging for which the ending was re-written to keep the coach trade happy, but the original Broadway production in which a character had a nervous breakdown while singing a song and the music became increasingly harsh and atonal.
Without
Coronation Street
there would be precious little decent comedy or drama on ITV these days, or even on television as a whole. It's a heavy burden for a single programme to carry and remarkable that they can do it so magnificently.