Exceedingly Good Corrie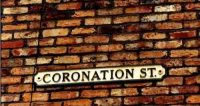 To support
I'm A Celebrity.....
and blitz the BBC, ITV are piling on extra episodes of
Coronation Street
this week. Not that we Corrieistas are complaining.
There were three episodes last night, all by different writers.
My vote goes to the middle episode for which Carmel Morgan delivered a sparkling script. She has also contributed to
Shameless
and has just written a stage play for Dawn French.
A Catherine Tate catchphrase provided a good link to the real world outside the Street when David Platt said "
Blackmail? How very dare you!"
Then Kipling joined the long list of poets who have been quoted in Corrie in recent years, including Larkin, Wilfred Owen and William Blake, among others. Perhaps the writers have some kind of competition going and will eventually work through the entire canon of English poetry. Who says popular television has to be as moronic as
I'm A Celebrity.....
?
Carmel Morgan couldn't resist a joke about Mr Kipling cakes, but then which of us could have done? It's just fortunate that the writers are exempt from the rules on product placement.
Shobna Gulati (Sunita) revealed in an interview this week that in the corner shop they spend hours turning the labels round on the shelves.
It wasn't always thus. For years,
Berkeley
cigarettes were prominent behind the counter in both the corner shop and in Rita's newsagent. Now, in an idiotic departure from realism, cigarettes, if displayed at all, have the packets reversed so that only the
'Smoking Kills'
message is visible.
Even more unforgiveably,
Corrie
recently linked a storyline to a Government campaign to encourage people to volunteer for community projects. For God's sake, let's keep social engineering and subliminal messages out of fictional entertainment. Particularly when the messages are so contradictory and inconsistent. The people of
Coronation Street
spend all their leisure hours drinking in the
Rover's Return
, many of them have multiple sexual partners and a long history of failed marriages and illegitimate children and they are constantly in Roy's cafe tucking into a large fry-up.
We've just learned that Roy's fried bread is fried in bacon fat and his toast is always coated in real butter. Incredibly, thus far only Jack Duckworth has had a heart attack and nobody has died from liver disease or HIV. Indeed, in Corrie the greatest threat to your life is being driven into the canal by a suicidal psychopath or burned to a cinder in an exploding car or building.
Not that we'd want it any other way.