Friday Extra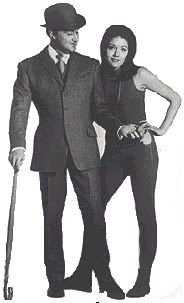 I couldn't resist last night's
ITV
celebration of
The Avengers
. I was briefly an addict, mostly during the Diana Rigg period.
But, from the clips shown last night,
The Avengers
was even more bonkers than I remembered.
Of course, there's always something appealing about any work of fiction that exists in a world sufficient unto itself. That's one of the charms of P.G. Wodehouse, although compared to The Avengers, Wodehouse was gritty social realism.
To be honest, I mainly watched it for the signature tune. I always got rather impatient with all that nonsense in the middle. But in the final scene the theme would start up slowly like a ticking clock......
Da Da DA DA.....Da Da DA DA
...... before finally erupting in all its plangent glory as Steed and Peel drove off into the sunset.
Maybe that's another piece of music to have played at my funeral. But it would really only work if, at the final crescendo, I burst out of the coffin waving an umbrella and kicked the priest in the goolies.
Patrick McNee and others said the programme was so successful because it was very, very good. I disagree. It was popular because it was so very bad. Last night's programme proved that with some examples of apalling dialogue and very hammy acting. It was kitsch with knobs on but hugely enjoyable.
When I was about 19 someone took me to dinner at the home of one of
The Avengers
scriptwriters. I'm fairly certain that
The Avengers
was never mentioned which, in retrospect, seems very odd. The scriptwriter was working on some project about the Spanish Civil War and kept asking me what I knew about it. I knew nothing about the Spanish Civil War and just mumbled awkwardly into my pasta. My friend said "
Willie doesn't say much. He's writing a novel
." I assume this was some kind of cover story I used at that time. I really wanted to talk about
The Avengers
but, although that programme had paid for the hi-tech flat we were in and a yacht in the south of France, I had the impression that it would be vulgar to mention it. It would be like reminding some Tory grandee that his family's wealth had come from the manufacture of condoms.
This may be unfair. He might have been very proud of his
Avengers
scripts and not without reason. It certainly gave pleasure to more people than many more worthy pieces of drama.