Tabloid Fake Outrage Shock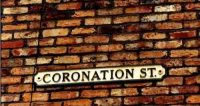 Last Sunday's
People
had a front page story about a
Coronation Street
actor being in a gay porn film. Since I often write about
Corrie
here I fished out my reading glasses in the newsagent to see who it was. (I don't normally read papers in the newsagent because I can't see the difference between that and eating the bananas in the fruit section of the supermarket.)
Most people would have assumed it was the actor who plays the current gay character. But it was Keith Drinkel. Keith
who
? It turns out that he's the 60 year old school teacher who is Liz MacDonald's current boyfriend. Liz, of course, tottering around in those micro-skirts with her tits hanging out, could walk straight into a part in a low-budget British porn film about Salford housewives. But of all the Corrie cast, only Norris would be thought less likely to have been in a gay porn film than Keith Drinkel.
To make sure I'd got the name right and wasn't libelling anyone, I tracked down the
People
story on the internet. And it's a classic of its kind. The strapline says: "
He stars with babyfaced young actors in shock hardcore gay sex film
". Note that word '
babyfaced
'. The article constantly tries to create a non-existent link with children and illegality, although it's forced to concede that none of the performers in the film are under-age. Indeed, it's a legal video with an R18 certificate.
"
Many of the sickening scenes are too graphic to describe in a family newspaper
" it says. Well yes. That's why the video has an R18 certificate like thousands of heterosexual porn videos.
Other descriptions of the cast in this video include "
fresh-faced
" and "
seemingly innocent lads young enough to be his grandchildren
", all calculated to imply that it is virtually child pornography.
Unfortunately for the
People
, Keith Drinkel had what one might call a non-shagging role and never got his kit off. I suspect that in both gay and straight porn grey-haired, 60 year old men are a rather small niche market. The poor chap seems a bit typecast because in
Corrie
he plays a teacher at Weatherfield Comprehensive while in the porn film he's a college Professor. Still, that's a kind of promotion I suppose.
Coronation Street
said they were unaware he had been in a gay movie. Conversely, and amusingly, the producers of the gay movie said he had never mentioned his
Coronation Street
links. Would these have cost him the part? Possibly. "
Sorry mate, our punters are never going to get their rocks off if images of Ken Barlow or Betty's hotpot come floating into their heads
."
The other tack taken by the
People
is to say that children doing an internet search for
Coronation Street
actors could stumble upon gay pornography, as though any child using a PC without parental controls installed could never stumble upon pornography in any other way.
They could, of course, very easily stumble upon
The People's
own website where agony aunt Rachael is advising Greg who was distressed to find his stunner of a girlfriend has a stache of porn videos. "
Why not watch a film together and see how you feel
", says Rachael, "
chances are you'll forget your reservations pretty quickly
."
Children might also enjoy reading Rachel's Sex Tips, which are apparently not "
too graphic to describe in a family newspaper
", like this one:
TREAT him to a Tackle Tickler. When you are on top, lean back so your hands are on the bed behind you (this is also good for you as it puts maximum pressure on the front wall of your vagina, where your G-spot is situated.) Slip one hand under your bottom and fondle his testicles while riding him.

As it happens, DIY tackle tickling was Keith Drinkel's only sexual activity in the gay movie. But fully-clothed at the time. "
The camera then pulls away and the actor is clearly seen sliding his hand into his trousers and on to his groin
" says
The People
disgustedly. Don't you love that adverb '
clearly
'? They obviously should have pixellated the hand going into his trousers. And notice how Agony Aunt Rachael can talk about '
testicles
' but in
'Corrie Keith's Sleazy Secret'
the less specific '
groin
' is used.
If there's one thing that gay and straight porn videos have in common it's that the overwhelming majority of them feature performers who are youthful rather than old. The same is true of the topless female models who appear in tabloid newspapers. So when
The People
describes this gay video as '
sickening
' and '
sordid
' it can only be because it depicts gay sex rather than straight sex.
You can legislate for an equal age of consent and gay partnerships but young gay people are still subject to this sickening, hypocritical garbage that appears in the tabloid press.And whilst Agony Aunt Rachael considerately publishes several 60p a minute Helplines for Masturbation, Super Sex Positions, Penis Size Worries and Female Orgasm, there's no helpline for young people with worries about their sexuality.