Stands That Deliver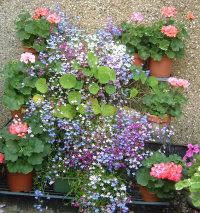 After so much heavy stuff, it's time for another gardening
Willie Tip
. Which is also an excuse for some more pictures.
Patios can be a bit boring if you just have lots of containers at ground level. The answer is to buy some tiered plant stands.
The one pictured has troughs of trailing lobelia cascading down the centre with geraniums at the side. And there are a few nasturtiums poking through from the back of the stand.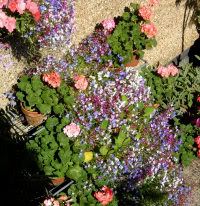 The bad news is that these stands are self-assembly with several hundred tiny screws and washers. It took me about two days to assemble the first one, partly because I originally assembled it back to front.
'Rome wasn't built in a day'
, I said to myself. But a tiny voice in my head kept saying
'but this is only a frigging plant stand
.'
Actually it's not a 'plant stand'. It's called an
étagère
so you can impress, and possibly baffle, your friends.
'Do you like my étagères?
' I asked someone.
'They're beautiful. Did you grow them from seed?
'
From a previously unseen episode of
Keeping Up Appearances
:
Richard
:
I do like your new plant stands, Hyacinth.

Hyacinth
:
Not plant stands, Richard!
Etagères!
I will not have my elegant, rust-resistant, classic French-style étagères referred to as plant stands.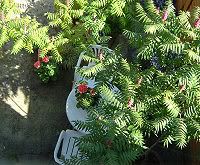 Another way to divide up a patio and get away from straight lines is illustrated by the use of sumac trees in containers (referred to in an earlier piece) creating a shady screen around a table and chairs.

Kathryn Flett in today's Observer writes the reverse of what I said a few days ago and gives a rave review to Extras and is very rude about the Catherine Tate Show.
If this woman can so ignorantly contradict the perceptive judgements expressed by myself and my readers then she is clearly not fit to be a television critic and should be dismissed immediately.