More Metablogging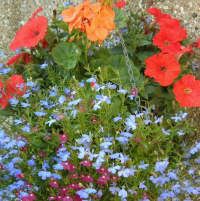 I stumbled across a blog by a gay, right-wing, Bush-adoring, gun-toting, American with an obsession about illegal immigration.
No, you'd have to pull my toenails out before I gave you a link. I'd hate to think I'd sent him traffic. And he'd probably blast you out of his comment box with his rifle. Not that there's any reason why someone's sexuality should dictate their political beliefs. But why would you campaign for someone who believes you are consigned to eternal damnation and deserve every last second of hellfire? I'm similarly puzzled by Catholic boys who realise they're gay and think: "So the church says homosexuality is sinful. Ah, that's it! I'll become a Catholic priest."
Hello? Is anyone at home?
A more pleasing discovery was
Uncoerced Confessions of A Gay Husband
, also from across the pond. First, a word of warning: it does contain some sexually explicit material, though nothing so far of the heterosexual variety. Artie (I'll call him that because his own self-description, the Absent Referent, is too big a mouthful) is chronicling his sexual journey which began, we now discover, in England as a student, and doing it with great wit, intelligence, insight and sometimes intimidating erudition. Sexuality is a complex and fascinating subject and I'll return to some of his themes on another occasion. But I do wonder whether it's advisable to speculate too deeply about one's own sexuality. Embrace it, enjoy it and just get on with it as best you can would be my view. On the other hand, if by the time you've realised and accepted that you are either bisexual or predominantly gay you are already in a loving marriage with children, you have more reason to reflect on how you arrived there.
This kind of confessional blog, besides appealing to our curiosity about other people's secret lives, can also be intellectually stimulating and valuable social history if it's done well like this one.
I've also added
The Zbornak Files
to my blogroll. This one is young, gay, vibrant and very, very pink. I often haven't a clue what he's talking about but it keeps me in touch with What The Young People Are Thinking. Well, one perhaps not typical young person in Oxford, but that's a start.
I don't share his passion for cats, or Dorothy for that matter. But he wrote an appreciative piece about one of Daran Little's Coronation Street scripts and that was enough to swing the vote on the Blogrolling sub-committee. He also wrote an extraordinary piece about a scary-sounding man talking to him at a bus stop about fisting. (it was 10th Nov., if you're not of a nervous disposition). I'll probably never forget it, much as I'd like to. It was so vivid it was almost as if I'd experienced it myself.
'World is crazier and more of it than we think'
, to quote for the second time in as many months from Louis MacNiece's poem. And therein lies one of the great glories of blogging. For sometimes the smallest and most unassuming blogs can shine a spotlight on the craziness, the scariness and the unpredictability of ordinary, everyday life. If only I could design intelligent indexing software that could pick out small gems like that horrific vignette from the bus stop and ensure they're preserved for posterity.
In line with this blog's equal opportunities policy, I'll try to ensure that my blogroll doesn't turn into a cyber-provincial outpost of Heaven nightclub. But gay bloggers have their own directories and search engines and this can influence the profile of both visitors and people linking to you. Naturally, it's all part of our conspiracy to take over the world and make homosexuality compulsory, using cloning and genetic engineering to guarantee future generations of rampantly promiscuous and drop dead gorgeous men. There's still a long way to go but we've now managed to install little Twiglet as Schools Minister so that's a good start.
Please Note
:
in case that nice young Christian from Texas visits this blog again, could I point out that the final paragraph was something called IRONY. If I see a headline in an evangelical newsletter
GAY BRIT ADMITS TO WORLD CONSPIRACY
, you'll be hearing from my lawyers. (And when you visited my blog a gay cookie was installed on your computer. That's why you keep getting that screensaver of Judy Garland and those strange emails from people at Gaycom).